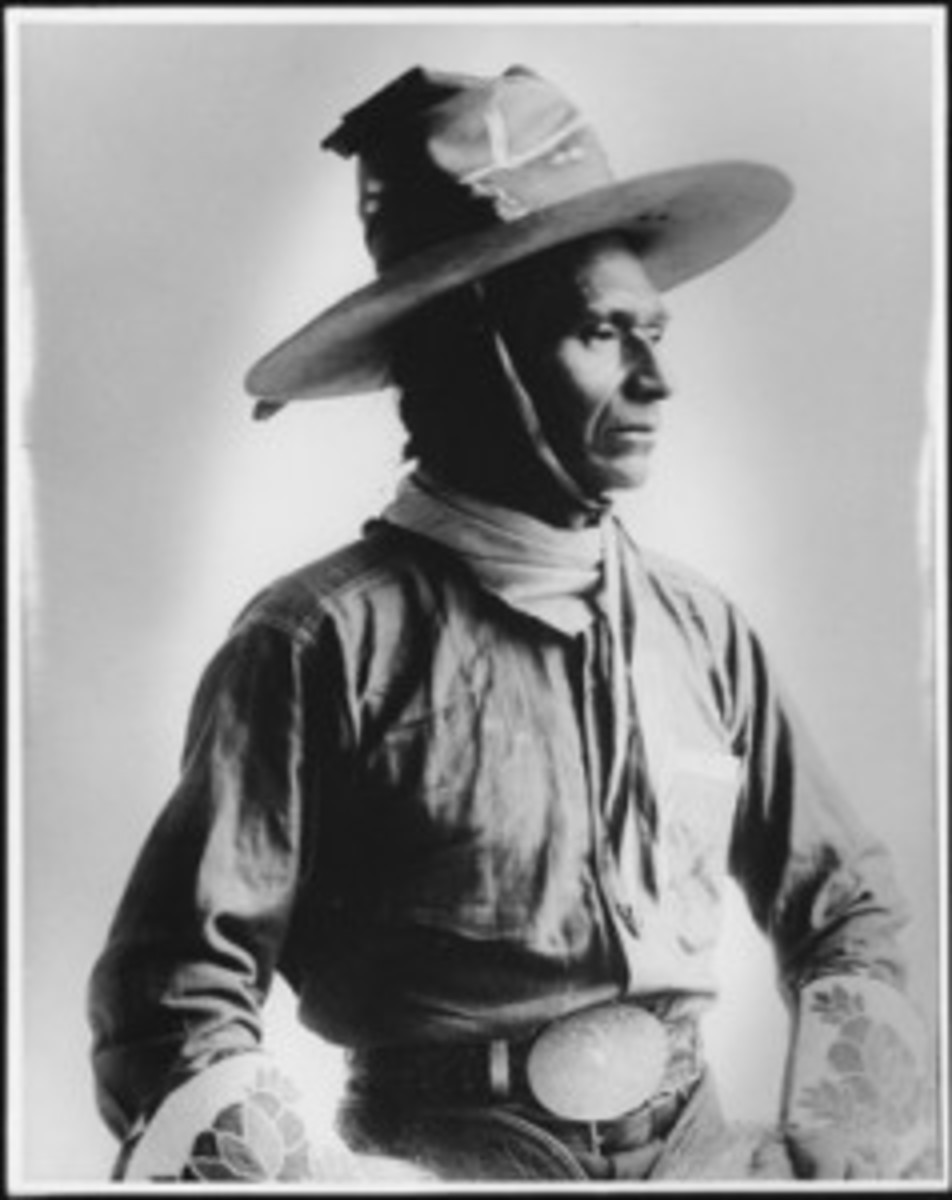 Native American cowboys have a rich history in American cowboy culture. Still today, Native American cowboys are making a big impact in the world of rodeo. Jackson Sundown, a Nez Perce, led the way. Today, Tee Woolman, Derrick Begay, Erich Rogers, Kenny McLean, Tom Reeves, Bud Longbrake, T.C. Holloway, Spud Jones and Sean Culver are leading the charge in the rodeo arena, and a young Doyle Lee just might be the future of Native American Cowboys. Find out all about them here.
Past: Jackson Sundown
The Native American culture has a long history in the rodeo arena, perhaps beginning most notably with Jackson Sundown. Jackson Sundown, whose Nez Perce name was Waaya-Tonah-Toesits-Kahn, or Blanket of the Sun, was a nephew of the famous Nez Perce leader Chief Joseph.
As teenager he was part of the Nez Perce Retreat of 1877, immortalized later in the movie, I Will Fight No More Forever. Sundown managed to escape into exile in Canada, where he lived until 1911.
Crossing back into Idaho, Sundown quickly gained fame as an all-around hand at the rodeos throughout the Northwest. He stood out in a crowd with brightly colored shirts, braids tied under his chin during rides and woolly chaps.
In 1911, he qualified for the final round of saddle bronc riding at the Pendleton Round-Up, the winner of which would be named the world champion. He rode against George Fletcher, an African American cowboy and John Spain, a white cowboy. Spain was declared the champion, but protests rang loud, the crowd favoring Fletcher's ride.
Sundown made those same finals again in 1915, and again placed third and decided to retire. However, Alexander Phimister Proctor, who hired Sundown as a model for a sculpture at the time, persuaded Sundown to enter the saddle bronc riding one last time?and would even pay his fees. Sundown took Proctor's offer, made the finals and in his range saddle, at the age of 52, rode a horse named Angel to the championship.
Sundown was inducted into the Rodeo Hall of Fame at the National Cowboy Museum, the Indian Rodeo Hall of Fame, the Cowboys of Color Hall of Fame, the Pendleton Round-Up Hall of Fame and the American Indian Athletic Hall of Fame.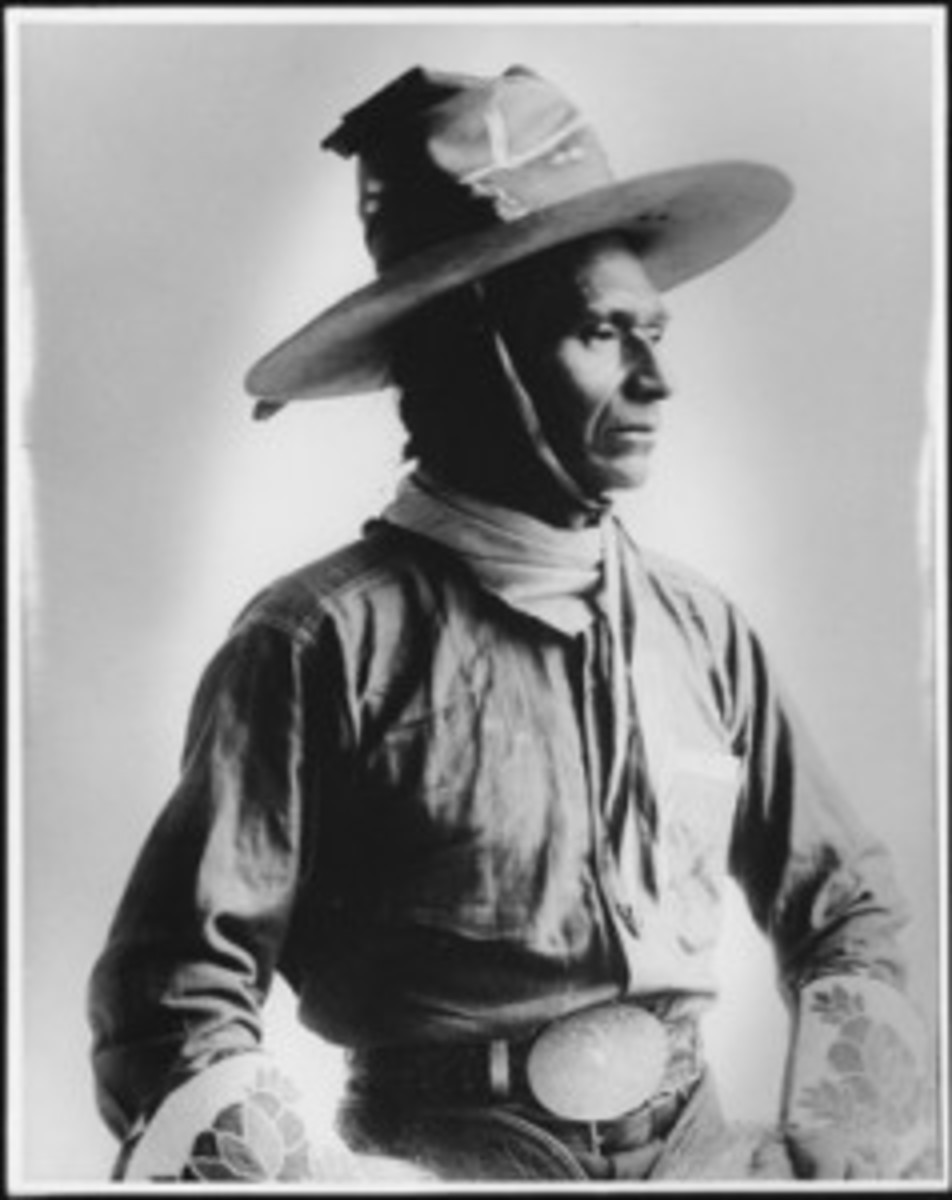 Present: Tee Woolman
The most Wrangler National Finals Rodeo qualifications, in all events combined, is held not by Trevor Brazile, but by Tee Woolman. Woolman has 45 post-season qualifications in steer roping and tie-down roping to his name, which, by the way is TeeSquantnee Claude Woolman. Both his grandmothers were Cherokee and Tee is named for a distant relative, Chief of the Cherokees, TeeSquantnee Ballard. The name means "Boy of the Woods."
Woolman's first trip to the NFR came in 1980, and he only missed making it in 2001 and 2006 before scaling back on professional rodeoing after the 2007 season. He also made trips to the NFSR from 1985-2005, missing only ?02 and '03.
Woolman won the world title three times, 1980, 1982 and 1991. He also won the NFR average title four times and the steer roping average once. In 1985 he and Bobby Harris set the world team roping record of 3.7-seconds at Spanish Fork, Utah, which stood for 15 years.
More recently, Derrick Begay and Erich Rogers have made a splash in the team roping world. Both from the Navajo tribe in Arizona, Begay roped at his 4th Wrangler NFR after winning more money in the regular season than any other team roper. Rogers competed at his first Super Bowl of rodeo last December.
On the roughstock end of the arena, the Wrangler NFR saw saddle bronc riders Kenny McLean, Tom Reeves, Bud Longbrake and T.C. Holloway, bull rider Spud Jones qualified in 2008 and bareback rider Sean Culver also mad the trip to Las Vegas.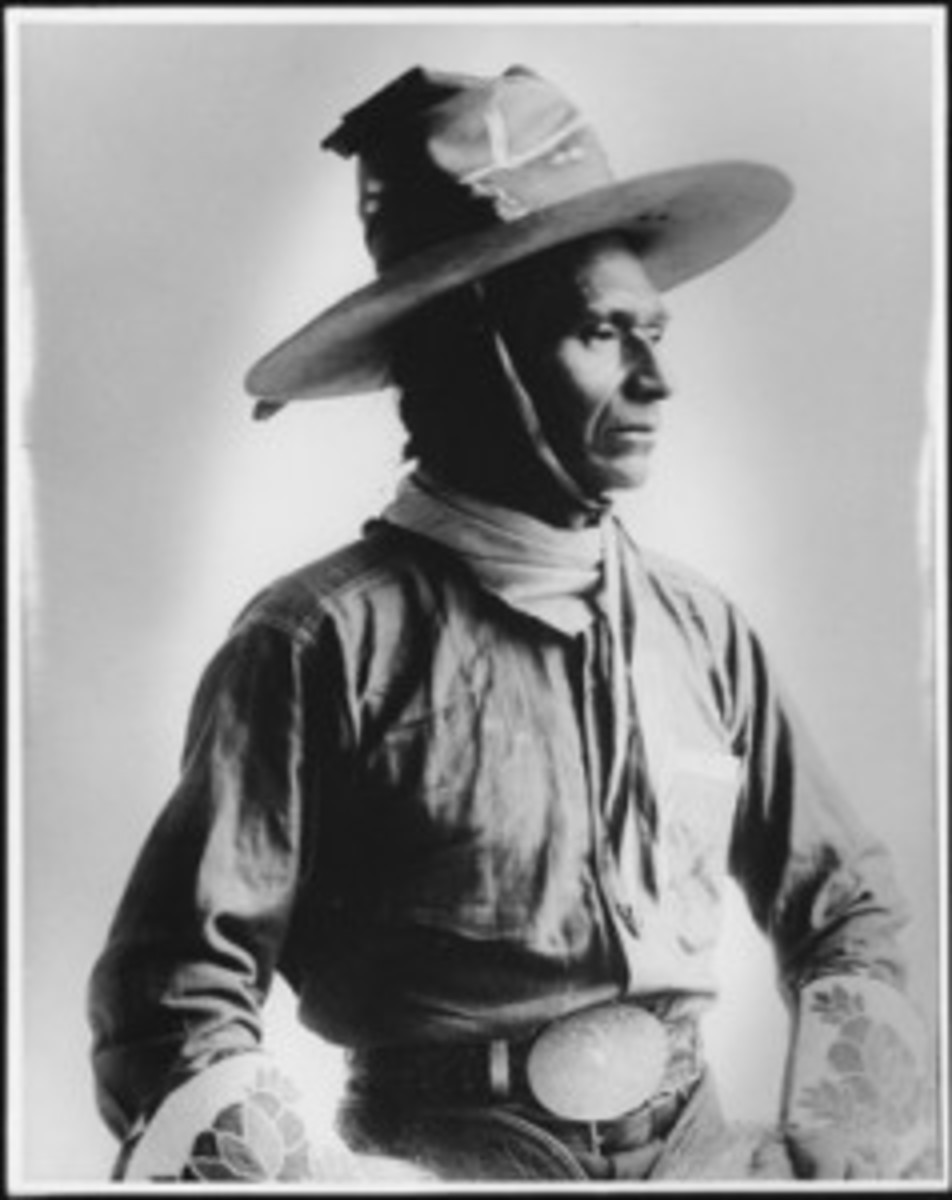 Future: Doyle Lee
Eleven-year-old Doyle Lee, from Rock Point, Arizona, roped his way to the top of the 10-12 age bracket at the World Championship Dummy Roping held at the Sands Convention Center Country Christmas show in Las Vegas during the Wrangler NFR.
As the field narrowed?and the distance from the dummy lengthened?Lee stepped up to the line, swinging his twine?and grinning. As the pressure would mount, the young Navajo would stop swinging his rope and giggle. He'd compose himself and then stick it on.
At the end, it came down to Lee and Carson Johnson, Jhett Johnson's middle son. Both boys caught slick horns (the only legal catch, by the way) from 18 feet away, which was as far as Anthony Lucia, who organized the contest, expected. He was forced to measure beyond the original line for the championship round.
From 19 feet away, Lee picked his rope up, swung it, giggled, stopped, got serious, got his rope up and launched it?another slick horn catch. Johnson missed.
Asked why he giggled, the young man of few words had a simple reply:
"I don't know, I got nervous," he said. He dad, Freddie, added that Doyle had never roped horns that big. As a matter of fact, Mojo Horns donated a spread of horns 3 feet, 10 inches wide for the championship round.
Freddie also added that Doyle practices his dummy roping every day with his Classic rope and his hero is Derrick Begay. This wasn't Lee's first trip to the winner's circle. He also won the Indian National Finals Rodeo's dummy roping in 2009 and took home a saddle then, too.
After the pictures were taken, he moved all his awards off the dummy and as his parents visited with well-wishers, Doyle just went back to roping, alone on the stage, on his way to his goal of being a professional rodeo cowboy.