Trevor Brazile and Relentless Glory took the win at Waco's Royal Crown 6-&-Under Heading, and a combined $14,382— but this came as no surprise to Brazile.
"She's just solid, and she's equally as good in the heeling. I'm just really proud of that mare because she's both showy and forgiving," Brazile said. "That's the one I want to take to the show, to the jackpots—that's just a special mare."
After being slightly out of the money in the first round, Brazile came back to win the second round with 134.33 points, pocketing $1,600. Their 136.44 points in the third round was good enough for second, adding $1,200, and their 134.86 point, third-place finish in the short go clinched the aggregate victory with 539.22 points on four head, earning $7,250 for Relentless Remuda as the owner, $1,556 as the breeder, and earned sire Metallic Cat's owners $1,556.
Now, Relentless Glory didn't just happen to come out of the womb insanely talented by accident. She was the result of careful planning by the crew at Brazile and Miles Bakers' Relentless Remuda.
"She's one that we raised at the ranch, so that makes it extra special. We've already got offspring out of her—one of her colts is actually by Frenchmans Guy—and her mother was the full sister to my calf horse, 'Deputy,' that I rode at the NFR," Brazile said.
As for her father?
"She's by this little stud called Metallic Cat, you know, that probably not many people have heard of," Brazile said, laughing. "No, he's been a great stallion in the industry. Besides the obvious reasons you'd want a Metallic Cat, her mom was a little bit hot and that seems to be the perfect cross on those types. It's worked out so far."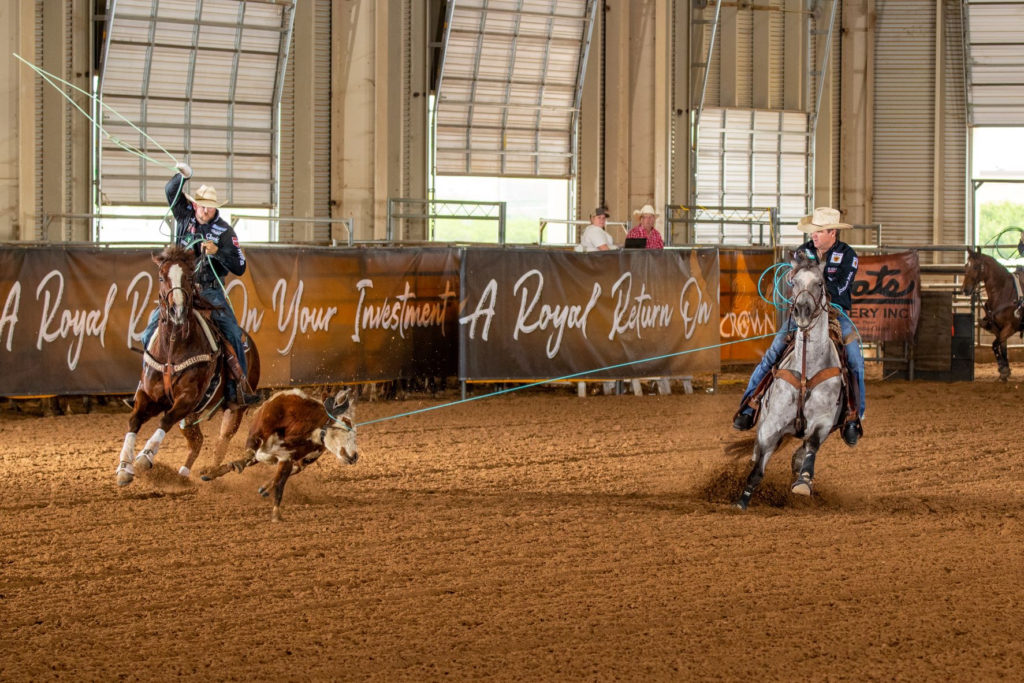 The cross seems to be working out according to plan, as Relentless Glory's full brother, a 2017 gelding called Relentless Big Shot, also placed in the heading aggregate.
With seven horses in the heading, and four in the heeling, Brazile, Miles Baker, and Joseph Harrison—who is showing the heel horses for Relentless Remuda— have their hands full. For Brazile and Baker, the Royal Crown is a natural fit to their training and breeding program.
"The Royal Crown is one of the incentives that really rewards the stallions and supports the roping industry. It's a lot of fun. I think this is the future of it," Brazile said.
Aggregate
Trevor Brazile on Relentless Glory, 539.22 points on four head, worth $7,250 owner, $1,566 stallion, $1,566 breeder
Rhen Richard on Chics Magic Corona, 536.19 points on four head, worth $6,000 owner, $1,296 stallion, $1,296 breeder
Trevor Brazile on Abracadabra Cat, 526.39 points on four head, worth $4,750 owner, $1,026 stallion, and $1,026 breeder
Bobby Mote on Mucho Natural, 524.73 points on four head, worth $3,500 owner, $756 stallion, and $756 breeder
Cade Rice on Jungle Cat, 523.23 points on four head, worth $2,250 owner, $486 stallion, and $486 breeder
Trevor Brazile on Relentless Big Shot, 520.96 points on four head, worth $1,250 owner, $270 stallion, and $270 breeder.
Round 1
Rhen Richard on Chics Magic Corona, 139.9 points, worth $1,600
Trevor Brazile on Abracadabra Cat, 138.43 points, worth $1,200
Colby Lovell on Reys of Pep, 137.13 points, worth $800
Trevor Brazile on Relentless Big Shot, 137 points, worth $400
Round 2
Trevor Brazile on Relentless Glory, 134.33 points, worth $1,600
Bobby Mote on Mucho Natural, 134.28 points, worth $1,200
Colby Lovell on Reys of Pep, 133.86 points, worth $800
Cade Rice on Jungle Cat, 133.8 points, worth $400
Round 3
Rhen Richard on Rubys Rollin, 139.05 points, worth $1,600
Trevor Brazile on Relentless Glory, 136.44 points, worth $1,200
Tate Kirchenschlager on Born in the Boondocs, 135.48 points, worth $800
Rhen Richard on Chics Magic Corona, 135.48 points, worth $400
Short Go
Rhen Richard on Chics Magic Corona, 138.73 points
Miles Baker on Tuckin Away Buckles, 136.54 points, worth $1,000 bonus
Trevor Brazile on Relentless Glory, 134.86 points
Trevor Brazile on Abracadabra Cat, 134.78 points