Keeping it Western in Eastern Colorado with Jesse Jolly
*** Editor's Note, Dec. 15, 2020: This story was originally published in the Feb. 2019 issue of The Team Roping Journal and reflects the number of WRCA Championships that had been won at that time (3). Since then, Jolly and team also won the 2020 WRCA World Championship Ranch Rodeo, now making them four-time World Champions: 2014, 2016, 2019 and 2020. See the 2020 WCRR results HERE.***
A sign marks the entrance to the Agate, Colorado, Jolly Ranch. It reads, "Working Ranch Cowboys Association World Championship Ranch Rodeo Champion Team 2014." Technically, and despite its modern, laser-cut steel aesthetic—unlike the well-weathered wood and painted "No Trespassing" sign wired to the fence at the cattle guard—this sign is old compared to the even newer, unhung signs for 2016 and 2019. This is the home of Jesse Jolly—three-time Working Ranch Cowboys Association World Champion, four-time Colorado Pro Rodeo Association All-Around Champion and multi-year Ariat World Series of Team Roping Finale money earner.
[SHOP: Working Ranch Reading Material]
Working Cowboy's Manual, by Fay E. Ward

Cowhand: The True Story of a Working Cowboy, by Fred Gipson and Evan Thomas

Hard twist: Western Ranch Women, by Barbara Van Cleve

(As an Amazon Associate, we earn from qualifying purchases made through affiliate links.)
Exiting the highway, the seemingly endless and sagebrush-less flats of Eastern Colorado's shortgrass prairie reach for the horizon, fenceline after fenceline. Until you reach the sign. There, the flats give way to the occasional low and wind-whipped evergreen, rocky red outcroppings and yucca-studded, cattle-strewn draws.
The ranch itself is nestled in a wide draw. Jesse's parents, Kent and Maggie, built the house that sits atop a central rise, overlooking the barn that houses Kent's father's 1932 saddle, as well as a few cattle pens and alleys, perfectly poised to collect the cattle as they funnel down off the pasture.
Trucks and trailers hauled in by dayworkers are parked by the barn and Jesse commands the attention of four or five cowboys as he informs them of the day's mission. It's a brisk December morning, and the crew mounts up to canvas the pasture and gather its nearly 500 cows, heifers and bulls, and perform pregnancy checks. Gratefully, the day is sunny and windless.
At 33 years old, Jesse—a 6/8.5 switch ender—has largely taken over ranch responsibilities. After college rodeoing in steer wrestling, saddle bronc riding and roping, he moved south in search of opportunities to improve his horsemanship.
"I took a couple of jobs in Texas, training horses on some ranches down there, trying to better my horsemanship. That was a place I always thought, growing up, was a little lacking in our part of the world. Horses were more of a tool. Nobody rode real nice horses around here, so that's what I wanted to do, but it didn't take long. I think I was 25 when I moved home and started working with my dad."
The Jolly family's multigenerational Colorado lineage is rooted in sheep ranching, which remained a part of the operation into Jesse's childhood. Cattle were worked into the fold by the time a young Kent was heading for his own father out in the pasture. For Jesse, ranching is simply what he knows.
[SHOP: Ranch Stories for Kids]
Roadie the Ranch Dog, by Scott Haynes

The Kid Cowboys of Boys Ranch, by Joe Simon and Jack Kirby

B is for Buckaroo: A Cowboy Alphabet, by Louise Doak Whitney and Gleaves Whitney
"My sister, Carly, and I are pretty close in age and my dad always had a couple of really good old horses around and, from a very young age, we just went with him. We never went to babysitters or anything, that I can really remember. I think we always thought we were helping. Looking back, I don't think we probably were, [but] you just kind of learned.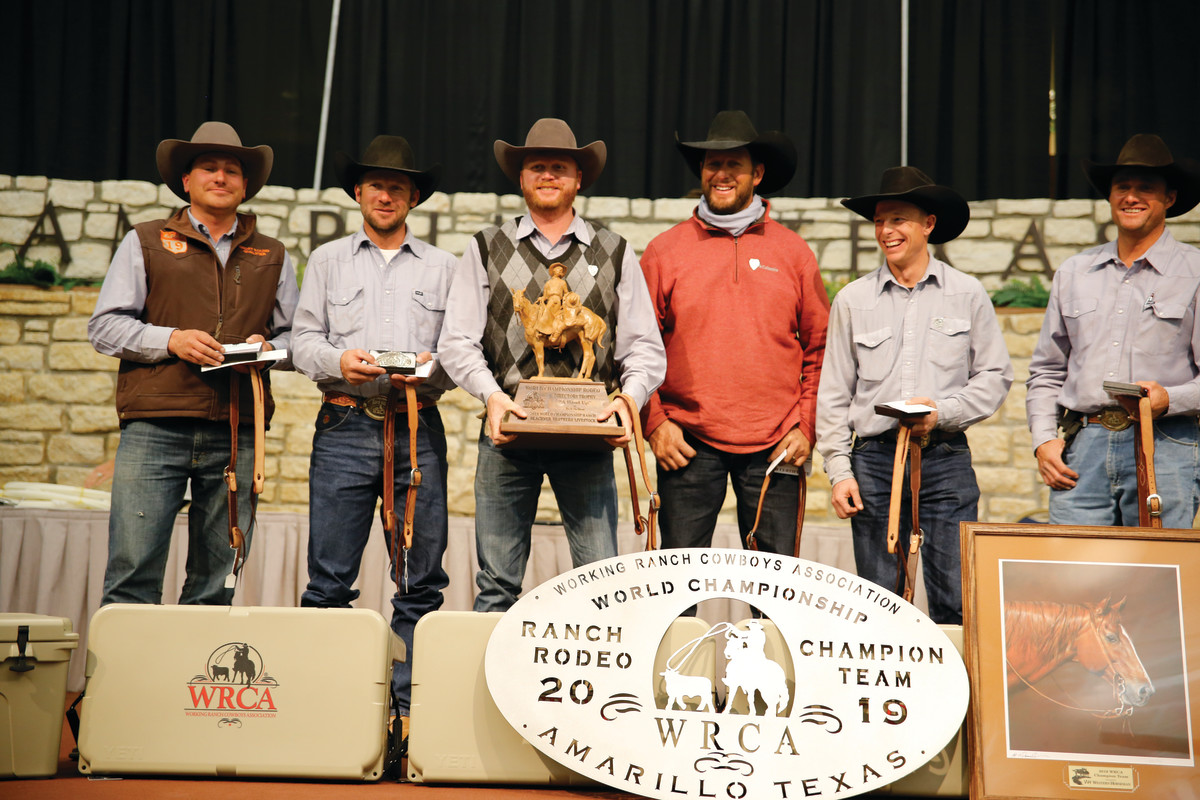 "A lot of people, when they come out, they want to help. And a lot of that stuff, you really can't describe. You either kind of know it or you don't. We were lucky there. When you grow up around it, it becomes second nature—how to read a cow or read a horse or even the other things that go along with taking care of cattle."
Jesse also has two brothers and another sister, but he and Carly, who's married to the ranch's sole non-Jolly, fulltime cowboy and WRCA teammate Dustin Bowling, have chosen ranch life for themselves.
[READ: Buckle Up with Dustin Bowling]
"We do a lot of things out here that you probably don't need to do, you know, as far as trying to keep it a little bit more Western. We sort everything on horseback and we sort a lot of stuff in the pasture and we tie and rope more stuff outside than anybody needs to. But it keeps it fun, too. We figure if you don't do it, you'll never know how to. We mess around with that a lot and, honestly, I think it keeps us more handy. It seems like a simple idea, but it's kind of hard to find somebody who can load a cow for you out in the pasture.
In the past year alone, Jesse has competed at ropings from Kansas to Arizona to the USTRC Finals in Oklahoma, the WSTR Finale in Las Vegas and beyond. He made a few PRCA rodeos, too, and competed in ranch rodeos sanctioned by both the Mountain States Ranch Rodeo association and the Working Ranch Cowboys Association.
[RELATED: Rodeoing and Ranching with Sherrick Grantham]
Ranch rodeo teams are comprised of mostly fulltime ranch employees who compete in ranch-work-inspired events like team penning, wild cow milking and bronc riding. Since many ranches' payrolls include only a few fulltime cowboys, ranches are allowed to partner up to make a full roster. When, in 2013, friend and fellow Eastern Coloradan Phy Lord of S&L Cattle Co. approached Jesse about forming a team, Jesse was only vaguely aware of what he was signing up for.
"I didn't even know what they were. I'd never even hardly been to any and [the Lords] were just our friends and asked us. We've kept together and we've had more success at them since we've started than any team and I'm kind of proud of that."
Since the formation of the Jolly Ranch and S&L team, they've clinched November's WRCA World Championship title in 2014, 2016 and 2019. Even when the team didn't pull off a championship win, there isn't a single year since they got their card that they haven't at least qualified to go to the finals in Amarillo. Also this year, Jesse and Dustin were on the team that won September's Mountain States Ranch Rodeo Finals held in Montrose, Colorado.
Jesse takes a lot of pride in the team and the fact that they are precisely what the associations were designed to showcase—real, working cowboys.
[SHOP: Working Cowboy Gear]
Priefert Model SO4 Squeeze Chute

YETI LoadOut GoBox Divided Cargo Case

Noble Outfitters Waterproof and Fleece Lined Mens Dakota Work Glove
"It works good. They're really neat guys. We all have fun, so that's why we all go."
Not unlike his father, Jesse has a relaxed and honest demeanor, and it's paired with a welcoming kindness that his mother offers in spades and food.
"My family works well together. Extremely well. We don't fight. It's good, and I've got a really good opportunity to do well here and to grow. We come from a successful line of ranchers, but my dad's always done so much to try to make sure his kids are successful and he's so easy to work for. He's so black and white. You could tell me a scenario right now and I could tell you whether he'll like it or he won't. You don't catch him on a bad day, and that kind of makes you strive to be a better person, because that's not easy to do—to not have a bad day. They're all that way, so I'd say I'm just lucky with the group I got."
[RELATED: Roping and Ranching with Bill Spratt]
In truth, it's partly why Jesse doesn't have the same kinds of goals in the roping arena as so many others do. His goals, in fact, are barely about roping. Instead, jackpotting gives Jesse a chance to further pursue the opportunities he's created for himself on the ranch, including his own breeding program. To get started, he looked back to the HK Ranch, where he worked in Texas, that produced Corkill's Switchblade and Jesse's go-to, do-anything mount over many years, Frenchie.
"The HK is owned by Tom Nelson, and he's raised a lot of good horses. I bought that horse after I started there and he was just a colt then. I've done just about everything on him. Head. Heel. Rope calves and sort and do all the stuff at the ranch rodeos, and I pick up broncs on him. Then, [Tom] also gave me two mares and those first colts are turning 2 this year."
Frenchie has largely been passed on to Kent, and Jesse's breeding program's progeny are still a few seasons out from being anyone's everyday go-to mounts, which isn't too much of a concern for Jesse considering the cowboy company he keeps.
"On our team, Kyle Spitz raises a lot of horses. His dad, Joe Spitz raises a bunch, too. He raised the horse that Phy's wife, Shali, rode at the NFR. CanMan is one of his studs. That's basically where all my young horses I'm riding now came from, and the horse I'll ride next year at the ranch rodeo is out of their program."
And though Jesse isn't seeking to perfect his loop, necessarily, it's not as if team roping hasn't played an important role. When asked if his ranching experience gives him an edge in the roping arena, Jesse contends it's actually the opposite.
"I would say it actually helps me more at the ranch rodeos, for the vice versa reasons, just to have a little bit more confidence with my rope than some of those guys there, maybe. But then, we also ride good horses and know how to do everything else, so I would say that probably helps us because you're not worried about catching. I mean, you're always worried about catching, but that's not the first thing on your mind. You just go out there and do your job."
And have fun. It's a theme Jesse keeps hinting at and, imaginably, is successful in creating. Consider, for instance, the argyle sweaters he and Dustin have a reputation of donning throughout the WRCA championships—"Look good, feel good, do good," he quipped to one reporter. "That's our team motto."
[SHOP: Champion-Style Apparel]
True Rock Men's Argyle V-Neck Sweater Vest
Living out off the interstate, tucked in a nook where the plains briefly give rest to their interminable search for the horizon, social calls are rare.
"You can't just invite somebody to come over and drink beer and hang out," Jesse explained. "But if you have any sort of little function, then it's okay. We do a few things throughout the year. Just little pasture ropings or jackpots there or a team tying. Something to where everybody can come out and do just that.
"We didn't have one last year, but I think it's been eight years that we've had a ranch rodeo and a pasture roping and a fast-calf roping and stuff right there at the house. Part of the ranch rodeo goes from the arena out into the pasture and it's pretty fun. It's small. But then we do a dance afterwards, or, I don't know if you'd call it a dance, but we have a band play."
So, there you have it. If you want to get Western, head to Eastern Colorado.
Jeremy Buhler breaks down the 5.5-second run that earned him a RodeoHouston team roping title.