Brandon Beers' iconic El Tevo Cash, the 2014 PRCA/AQHA Head Horse of the Year "Tevo", died unexpectedly from colic October 25, 2018. He was 17 years old.
The brown gelding, aboard whom Beers rodeoed on from 2011 to 2018 and won the Cheyenne Frontier Days title on in 2014, was put down at Bend Equine Medical Center after Beers found him laying down in his pasture early in the morning of the 25th.
"It happened so fast," Beers, a four-time NFR header, said. "He had never colicked before. The team at Bend Equine has taken care of Tevo for years, and they loved him. I unloaded him there, and he doesn't want to walk into the clinic. But he walks in behind me and walks into the stalks. Dr. Wendy Krebs tells me its up to me, and that if we had to do surgery, it probably wouldn't work. As a last attempt, we tried to get him moving to see if it would flip back. We went out to the round pen, moved him around, and nothing. He loped two circles, and came back to me and it was like he said, 'Hey man, this is all I got.' That was probably the hardest thing I have ever had to do. I cried from the time we got him into the surgery room, and I wouldn't leave him. They said they could do it, but I wasn't going to leave. I held his halter and waited until they laid him down, and that was it."
Tevo is buried at Mark and Ann Malott's Malott Ranch in Powell Butte, not far from Beers' place.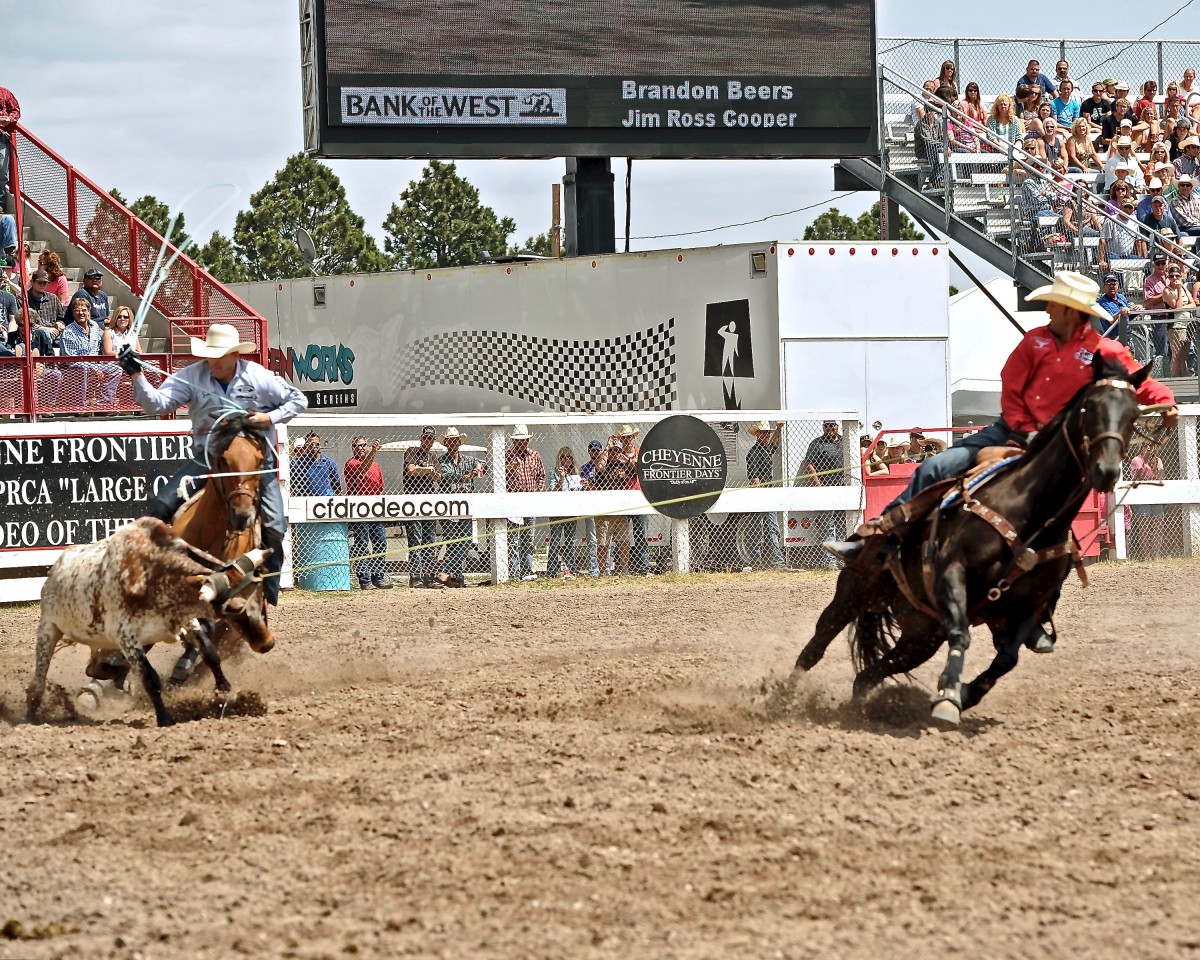 "We put him up on the hill there and had a headstone made," Beers said. "I know the Malotts aren't leaving or selling their place. So that's why I wanted him there."
Tee Woolman found Tevo for Beers back in 2011, and Woolman's wife Jacque even ran barrels on the massive gelding by Whiskey Ike HK out of a mare named Have Your Cash who went back to Dash For Cash. Tevo was related to Woolman's Megazord, the first-ever PRCA/AQHA Head Horse of the Year.
"For as big as he was, he was so quick," Beers said. "You could ride him in shorter stuff, but long stuff—two or three strides and he was there. The year we won Cheyenne, he was running so hard. And the thing with him, he was so honest. Jewel was fast, but Tevo had no counterfeit in him. If you kept your feet going, he wouldn't turn until you stopped. If you signaled him, he'd widen fast. People are always fixing their good horses, but I made it a full rodeo season without running a practice steer."
Tevo—who Beers estimated weighed 1250 to 1300 pounds—was hard to fit in a trailer because he was so big and long-necked, Beers' last NFR partner Jim Ross Cooper said, and he and the Minor Brothers, with whom they were buddied with in 2013 and 2014, often told Beers he should pay more in fuel because the horse was so much bigger than anything else they were hauling.
"It's so hard to separate a great horse and a great header, because they have them for three or four years," Cooper said. "And with Tevo, Brandon Beers was one of the greatest headers going."
Beers, who has $637,040 in career earnings, will rodeo in 2019 with Daniel Braman IV, and will miss having Tevo in the rig because "he was still getting better," Beers said.
[READ MORE: The X-Factor: What Makes Good Horses Great]
[READ MORE: Battling Injury with Brandon Beers]
But the horse will be missed even more around the Beers' place by Beers' wife Kimber and 3-year-old son Baelor.
"Baelor would take treats out to Tevo's pen and just sit there feeding him," Beers said. "He was the family horse. He'd ride him around, and Kimber would ride him. It about killed us a couple weeks ago when Baelor called my other horse Tevo, and we had to remind him that Tevo wasn't here." TRJ