Colby Lovell and Reys Of Pep had just marked the highest score of the entire 2022 American Rope Horse Futurity Association World Championships at second callback as Lovell coiled up his heel rope and rode back up Fort Worth's John Justin Arena.
Lovell rode straight toward his roan gelding, Bartender, near the heading box, slipped off Reys Of Pep and climbed on his PRCA World Champion head horse. At the same time, Cade Rice was shaking out a loop on Sevens Star Glo—the 5-year-old buckskin stallion owned by Marshall Wier, on which Rice was high back. He was waiting for Lovell—Rice's helper at the futurities all year—to back in the head box to try to best his own score.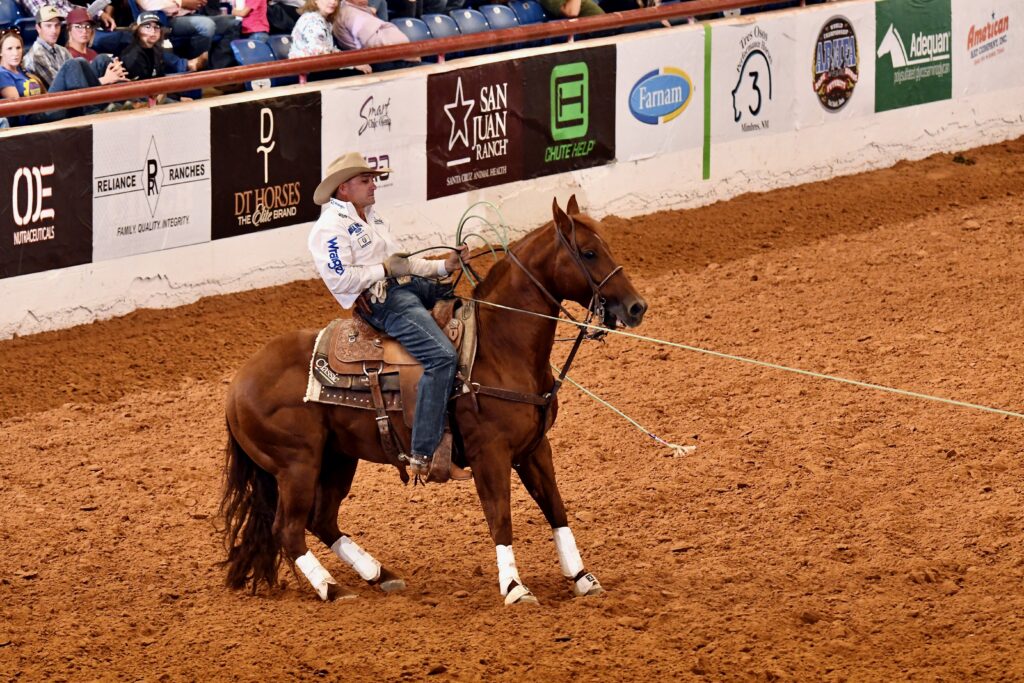 "I missed for Cade at Oklahoma City when he was second callback, and I ended up winning it on mine," Lovell said. "The pain of missing for him, letting somebody down, with all that hard work… you can look over at Cade's stalls and see 20 to 30 people standing around that horse and Cade. I knew I would not miss that steer tonight. I told Cade before we roped, 'I've been waiting for this all year. I'm not going to let it happen again.'"
Lovell regrouped and backed into the box as the announcer called out Rice and Seven S Star Glo's massive 711.83 going into the round, in front of a packed Friday night crowd.
"I wasn't nervous, I was determined," Rice said "I was ready to seal the deal and get what I'd been working for my whole life and what that little horse deserved."
Out the barrier clean, Lovell ran to a safe distance for a high-percentage shot as the strong steer took a step into him then back out, and he got him on a short rope for Rice to take two swings and tee off on him.
"That head horse gave Colby a gold buckle, and that horse and Colby just gave me a gold buckle with this horse," Rice said. "I was right there watched it, and he has the highest score of all time in the heeling. And I'm like 'Holy shit, I've got to top that.' And Colby came back and gave it his all, and Bartender gave it his all, and that gave me a chance to do my job. And that's saying something about a horse and a man."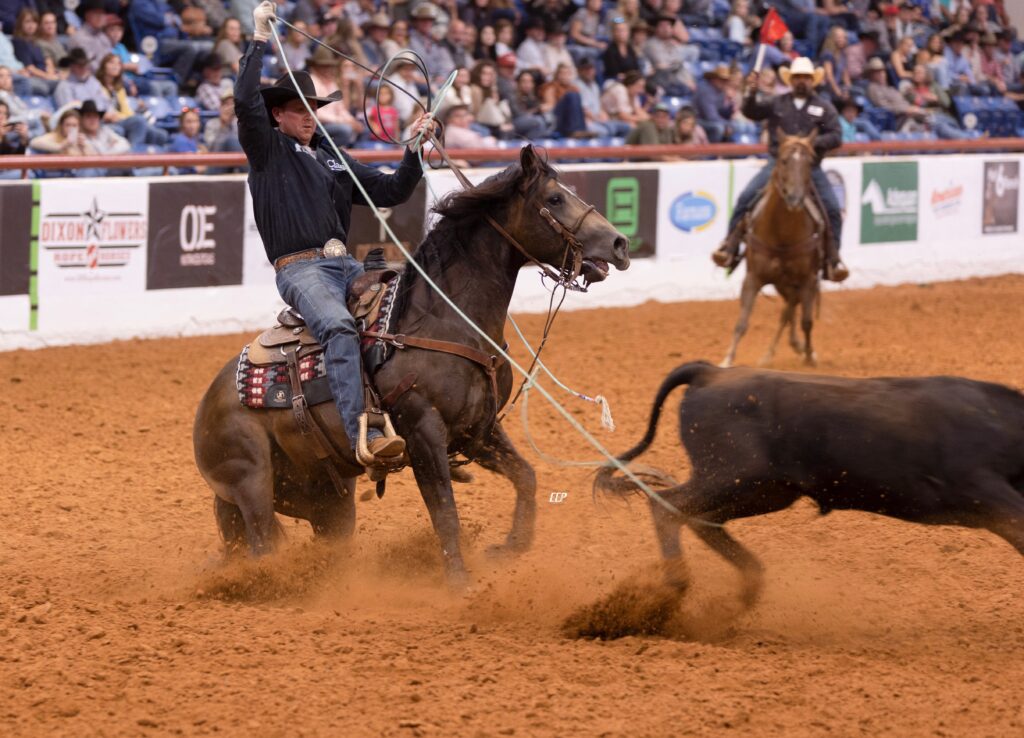 The Pedigrees of Every Heel Horse in the ARHFA World Championship Short Round
For their efforts, Rice and Seven S Star Glo won $28,000 when the judges decided the duo marked a 952.11 over four head, less than a point and a half higher than Lovell and Reys Of Pep.
Sevens Star Glo and Cade Rice's Journey
Rice now keeps about 40 head of horses in training at his facility in Lipan, Texas. But when Wier pulled in his driveway one day a few years back on a whim looking for somebody to train this nice young stud by CSR Dual Glo and out of Sevens Tootsie Time by Hes Dun His Time, Rice only had some panels for pens and a shipping container set up for a tack shed. Rice had just stepped out on his own after working for Clay Logan for over seven years, and he was in the middle of building his operation.
"Once I get a barn built, he leaves him with me," Rice said. "And the rest is history. That was spring of his 4-year-old year. He was pretty easy. Tee Richardson broke him as a 2-year-old and 3-year-old. He got him broke, and they were ranching on him. He was dang sure broke, and he could cut a cow and do whatever. And it was pretty easy. You showed him what you wanted to do and he took to it."
Sevens Star Glo's Future
Sevens Star Glo will eventually stand to the public, but for now his focus is on finishing out a stellar show career. He goes to the AQHA World Show next week, and he has another year of futurities in 2023.
"I ain't really processed this yet," Rice said. "It's a dream come true. On Dual Badger Cat in 2019 I won a go round and was second callback and ended up third. In 2020, I won three go rounds out of four and ended up second. That really burned. So I was on a mission. I didn't rope the best all week, and I missed a few steers on great horses I shouldn't have missed, and I slipped some legs on great horses that I shouldn't have done. But when I got tapped off on this little buckskin, I kept grinding. We got it. We finally got it."