These are the top 10 richest ARHFA ropers of all time as the 2023 ARHFA World Championship is set to kick off Oct. 18, 2023.
10. Billie Jack Saebens: $126,480
Coming on the heels of his first NFR qualification, Billie Jack Saebens won the very first American Rope Horse Futurity Association's World Championship heeling title in 2017 on Macho Man Whiz, a 4-year-old he'd bought on Facebook. Since then, Saebens has piloted great horses like The Notorious B.I.G. and won the Bob Feist Invitational, too. Of Saebens ARHFA earnings, $30,325 has come in the 3- to 4-Year-Old Incentive.
9. Miles Baker: $132,717
Miles Baker burst onto the futurity scene in 2020, when he began partnering with a guy named Trevor Brazile on some horses. Baker's earnings have been split between the Open, Intermediate and 3- to 4-Year-Old Incentive, working both ends with ease on horses like RR Buckles Clubhouse, A Big Vintage Buckle, Tuckin Away Buckles and Ruf N Wound Up. Oh, and you can watch Baker and Brazile's entire Relentless Remuda training program on Roping.com, so not much of what he does is a secret.
8. Steve Orth: $162,435.47
Steve Orth graced the cover of the October 2022 issue of The Team Roping Journal on Dual Oak E, the horse he led the 2022 ARHFA regular season aboard. Oklahoma-based Orth has won both in Fort Worth and during the futurity regular season on a variety of horses, fitting in Prairie Circuit Rodeos along the way.
7. Andy Holcomb: $220,791.50
Andy Holcomb has long been a big freakin' deal in the rope horse game, but he burst onto the national scene with Blue Berry Please, the undeniable champion of the 2019 ARHFA World Championship. That year, Holcomb also won fourth, and he's been a constant in the ARHFA winners' circle. On horses like Fine Vintage Cash and Walkin The Dog, Holcomb has served his customers well. He's won $187,468 of his earnings in the Open, with the other $33,323.50 coming in the 3- to 4-Year-Old Incentive.
6. Casey Hicks: $221,359.70
Casey Hicks, like Holcomb and Orth, came to the futurities from the AQHA horse show world. Also like Holcomb and Orth, Hicks circuit rodeos between futurities. The ARHFA World Champion piloted Shesa Royal Cat, long holding the distinction as the highest-earning ARHFA horse of all time. Hicks has also helped Orth to much of his earnings, as well.
5. Dakota Kirchenschlager: $238,751.70
Dakota Kirchenschlager is a three-time NFR heeler who decided that horse training was more his flavor, and he's never looked back. Kirchenschlager won the ARHFA World Championship on the head side for Darren Johnson on X My Ich in 2020, and his place in Whitesboro, Texas, is loaded with top talent from across the country. He's also won the Riata Buckle worth $90,320—earnings not included in this total—with Colby Lovell.
4. Joseph Harrison: $293,099.42
With three ARHFA World Championship titles to his name, Joseph Harrison is an undoubted force in the futurity game—on Dual Patron in 2018 and Dual Axle in 2019, and again in 2021 on WND Affair. Harrison did so while also making the NFR, thanks in part to the mentorship and training of Bobby Lewis.
3. Cade Rice: $310,513.05
Cade Rice got his first ARHFA World Championship in 2022 on stallion Sevens Star Glo, but he's been raking in the earnings for years. The 6.5 header and 8.5 heeler has earned $27,000 in the intermediate division and $21,006 in the limited, plus another $30,617 in the 3- to 4-Year-Old Incentive. Even without those incentive earnings, Rice has banked $231,890.05 in Open futurity money.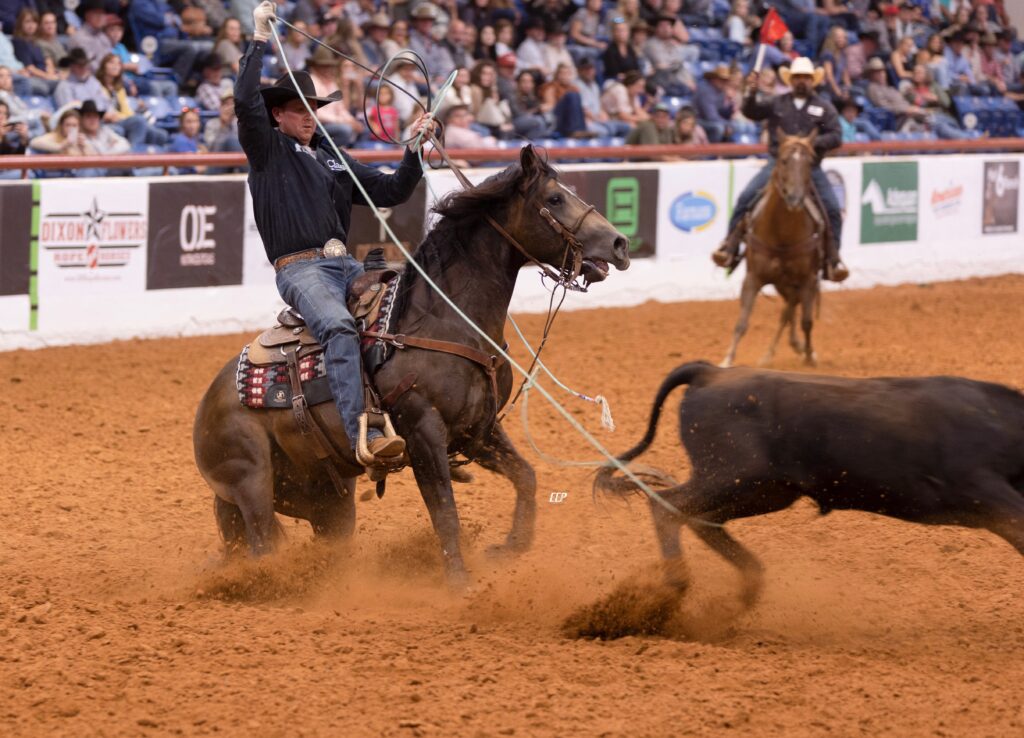 2. J.D. Yates: $331,981.99
The 22-time NFR switchender J.D. Yates won the first two ARHFA World Championship titles on DT Air Jordan. At 63, Yates is the oldest roper on the list, but he remains a switchender with clients who want to see their horses go to the shows and then go to the jackpot pen later in life. Yates also helped solidify the 2023 Nutrena Head Horse of the Year Mr Joes Shadow Bar, now ridden and owned by Clint Summers.
In 2017 Trevor Brazile, who had not yet retired from ProRodeo, sat and watched the first ARHFA in 2017 on the heel side of the arena. He studied the head horses, mentally noting what horses scored well and why. In 2019, Brazile showed up in Fort Worth after a year of retirement with a few mounts, but he broke the barrier on the first run and didn't even make the short round.
By 2020 though, Brazile had a brand new mission and motivation thanks to the booming incentive scene, his since-sold stallion Show Me The Buckles, his partnership with No. 9 Top ARHFA Earner Miles Baker in their Relentless Remuda and his redefined passion for the rope horse business. Brazile had always prioritized his horsemanship, but the rope horse futurity game gave him the competitive outlet the King of the Cowboys missed in retirement. And the timing couldn't have been better: Just as the industry took off, Brazile put himself in the driver's seat, competing across multiple associations. Brazile has been high back three times—on American Greed, BoomBoom Firecracker and Tuckin Away Buckles—at the ARHFA, but he's yet to win the world in the futurity game.